Fully compatible with Windows 10!



NEW Version 7.5! - Print Screen Deluxe is the ultimate screen capture utility. It provides a fast and easy way to capture, print and save your screen. One keystroke does it all! With one keystroke you can capture and print the entire screen, the current window, a selected region, and more. Print Screen Deluxe will even let you add comments to your captures!

What's new in 7.5? Multi-monitor support. 40 new file formats. It's VERY easy. We hope you enjoy it.

Print Screen Deluxe saves you time by printing your screens and windows in one keystroke. You can also shrink, and stretch your image, and perform many image enhancing functions on it. This is the screen capture program you owe it to yourself to try!

Features:
Capture, entire screen, active window, window, auto scrolling window, Clipboard images and text
The floating Quick Capture button. Now you don't have to take your hand off the mouse to capture your screen!
Multi-monitor support. If you have 2 (or more) monitors, we can now capture them all at seamlessly with one keystroke.
Save your image to a PDF file.
Text Capture - Click on any window and capture the text within. Capture the text in lists, read only documents, web sites, and more!
Capture a video of your screen activity to a .AVI file
Capture images in the shape of a rectangle, round rectangle, ellipse, triangle, polygon, or even a freehand area!
Capture your menus too!
Capture the mouse cursor in your images
Capture clipboard text to a .TXT file instead of an image file which allows you to edit the text!
Email your screen shots.
Auto Scroll. Allows you to capture the an entire web page or other document when much of it is not visible.
Auto Save mode allows you to set a default directory where files are saved.
Add comments to your screen captures. Excellent for sharing ideas, creating tutorials, and more.
Notate your images with arrows, text and yellow highlights
Adjust the print scale from 1% to 1000%
Print the image anywhere on the page.
Automatically save captures to a file in a specified folder
Time delay screen capture
Email screen prints within the program.
Print DOS screens
Be able to place multiple pictures on one printout.
Live Update insures you always have the most recent versoin
Capture files in 65 file formats
Automatically make your printouts lighter or darker

Click Here to read a review of Print Screen Deluxe:
Screen shots. Click one to zoom in.
Recent Awards: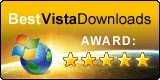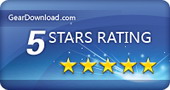 Print Screen Deluxe